(We) Love Letters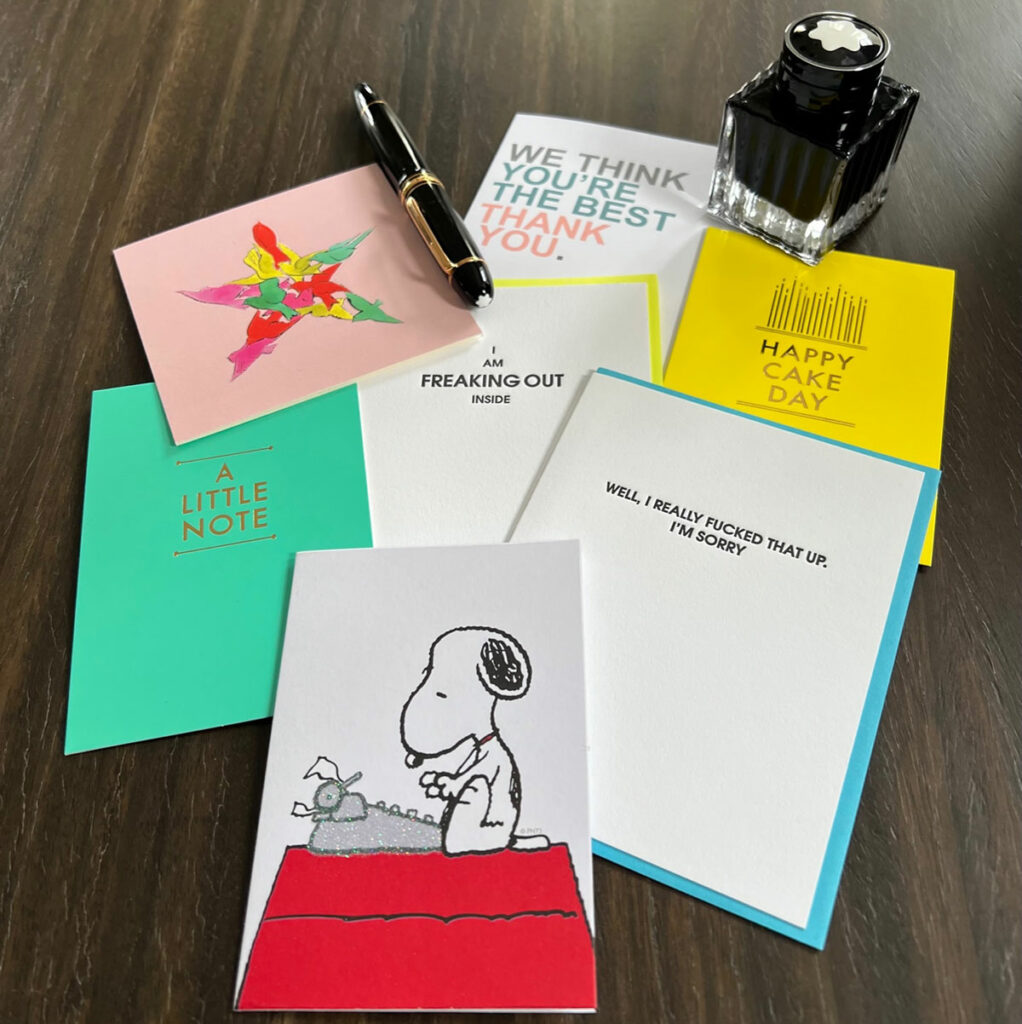 We've all been there. That awful moment when you look up to find a co-worker walking towards your desk, discretely waving the going-away card you're supposed to sign. "Just leave it here," you mouth in a whisper, as you reach for your pen and begin willing it to articulate all the things you want to say. Alas, after 10 blank minutes of your heart ticking away loudly, you inevitably put pen to card stock and cringe as the words "All the best!" appear before your eyes. Defeated, you add a smiley face, jam the card into the envelope, and swear that—next time—you'll know what to write.
Sound familiar? Well, as stationary-loving, card-sending members of the We Love Letters Fan Club, we're here to tell you that sending and receiving cards can become one of your favourite things! Here's what you need to know.
Know When to Send
When you've finished a contract and want to say an additional thank you.

When a client is celebrating an important work anniversary.

When it's the holiday season and you're spreading goodwill and cheer.

When a co-worker is leaving (and has disclosed it to you).

When a co-worker has suffered a loss (and has disclosed it to you).
Know When Not to Send
If you're worried that a personal note might come off as intrusive, or worse—creepy, trust that! Even when your heart is in the right place, workplace relationships come with boundaries (and HR manuals!).

Just because someone mentioned it on social media doesn't mean you can comment on it at work. Wait to be told before offering condolences or congratulations.
Be Kind & Genuine
It's easy to second-guess yourself, but being kind and genuine will never fail you. Sometimes, knowing what to write is even as simple as asking yourself what you'd want to hear.
If you've enjoyed working with them, say it.

If you're grateful for all they've taught you, say it.

If you hope to keep in touch, say it.

If you're hoping to be of service to someone who's suffered a loss, say it.
Blank Cards Are Your Friends
Having a stash of beautiful blank cards makes it easy to personalize any occasion without worrying that the pre-printed message wasn't quite the right tone or sentiment (a.k.a., the wrong kind of funny or familiar). Not sure where to find great cards? See our list of favourite stationary shops and websites below!
Our Favourite Card Shops, Letterpresses & More!
Homework Letterpress (Edmonton)
Kenspeckle Letterpress (Duluth, MN)
Madison + PAGE (Calgary)
Natasia Makes (Edmonton)
Paper Umbrella (Regina)
parcel + prose (Edmonton)
Scout (Toronto)
The Good Days Print Co. (Cambridge, Ontario)
The Prints and the Paper (Edmonton)
The Regional Assembly of Text (Vancouver)
Aurora (pens)
Cross (pens)
Mont Blanc (pens)
Parker (pens)