MCQUEEN Indulges
Cheers to the holidays!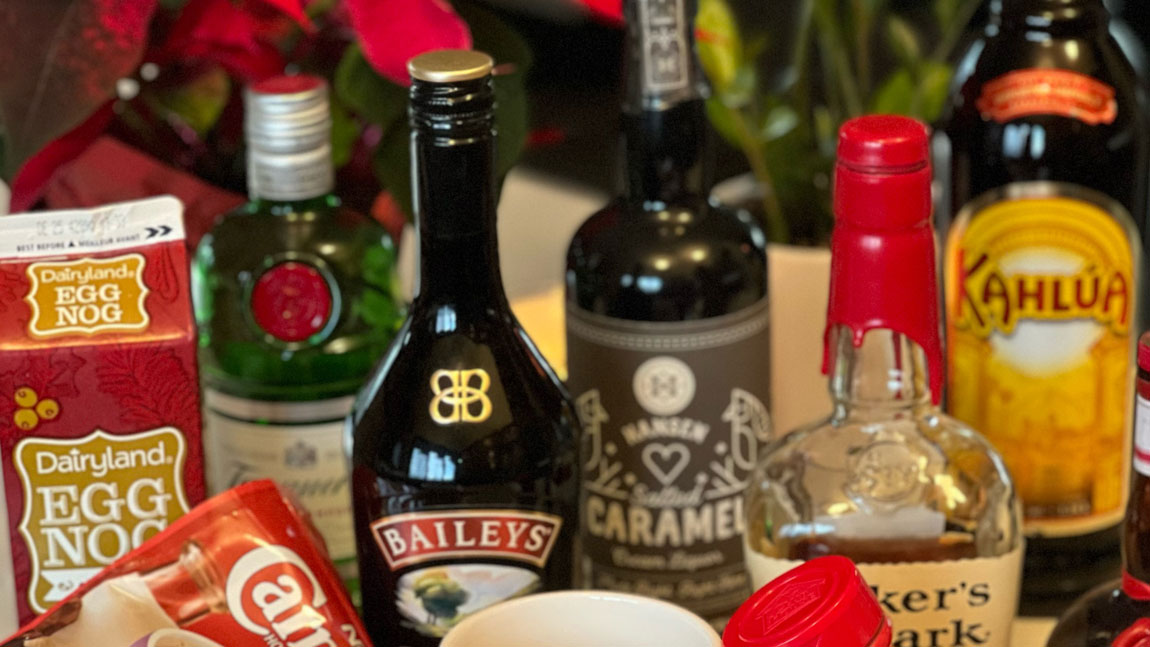 It's that time of year. Projects are coming to an end, goals have been reached, successes have been celebrated, misses have been learned from, and we're facing the coming year full of gratitude for each other, our clients, and you. To celebrate and say thanks, we thought we'd raise a glass and share some of our favourite cocktail recipes to kick off the holiday season. Like us, some of them are bold, other are classics, and all are better with friends.
Cheers to you and the holidays, from all of us at MCQUEEN! And please remember to enjoy responsibly.
Jared's Pick—Old Fashioned
Several years ago I discovered bourbon and started experimenting with various recipes, but my friends constantly told me that Old Fashioneds were my best. –Jared
Ingredients
2 oz Maker's Mark bourbon
3 tsp. simple syrup
2 tsp. Angostura bitters
1 tsp. orange juice
1 strip of orange zest and maraschino cherries, to garnish
Place the bourbon, simple syrup, bitters, and orange juice in a cocktail shaker, stir well, then pour into a rocks glass over one or two large ice cubes. Garnish with a strip of orange zest and a maraschino cherry.
Evan's Pick—Negroni
This was Tony Bourdain's preferred drink, grandfathered into mine. Orson Welles also sang its praises. It's the ideal aperitivo to open your palate, and somehow just as good to cap off a meal. It's definitively the perfect cocktail. Simple, elegant, and damn good. My favourite part? It's so simple that the worst bartender can't screw it up. –Evan
Ingredients
One part Campari
One part sweet vermouth
One part gin
Strip of orange zest or an orange wheel, to garnish
Pour the Campari, vermouth, and gin into an ice-filled cocktail shaker, and stir. Some people might opt to shake it, but I think that's a poor choice—these are delicate ingredients, and shaking will dilute the drink. Next, strain into a tumbler over a generous cube of ice, and garnish with a twist of orange.
Ellie's Pick—Mock-Ups/Token Bitters' Distemperance Haskap Citrus Chile Sangria
Some good friends of mine started Mock-Ups, which is a little venture out of Edmonton, creating beautiful and satisfying non-alcoholic drink options for adults. They recently partnered with Token Bitters to create a teetotal sangria and mulled wine for this season, and I've been loving the sangria! You can purchase their sangrias from holiday markets around Edmonton, and I know they also carry some at RGE RD's the Butchery. –Ellie
Ingredients
One part Distemperance Haskap Citrus Chile Sangria (non-alcoholic)
One part soda water
Choose whatever glass feels best, and pour in some sangria and then some soda to balance it—depending on how strong you want the sangria, you can add more or less soda to find the consistency that's just right for you, and then garnish it with whatever your heart desires!
David's Pick—X-Mas Spice Tea
It's not the holidays without Christmas tea. My favourite from Acquired Taste Tea Company is a caffeine-free blend with orange fruit pieces, star anise, red pepper, cinnamon, and cardamom. –David
Ingredients
Acquired Taste Tea Company's X-mas Spice Tea (available only during the holidays)
Boiled water
You know the drill: steep the loose tea and enjoy.
Carmen's Pick—Homemade Irish Cream
You'll find tons of recipes for this concoction on the Internet, but I make mine with pecan whisky, which adds a beautiful nuttiness to this monstrosity of a brew. Pour it over ice, add it to coffee, or—as I do—drizzle it over copious amounts of vanilla ice cream and chocolate sauce to make a boozy little parfait. –Carmen
Ingredients
1 2/3 cups Revel Stoke Roasted Pecan Whisky
1 cup whipping cream
300 mL sweetened condensed milk
2 tsp. instant coffee
3 tbsp. chocolate sundae syrup
2 tsp. vanilla extract
In a measuring bowl with a spout, combine all the ingredients, and whisk them together until smooth. Taste, and adjust the whisky, instant coffee, and chocolate syrup to your liking. Pour into a bottle with a cork or cap, and refrigerate. Shake before serving.
To make a parfait, add a scoop of vanilla ice cream to a tumbler, douse it with lots of chocolate syrup, pour over an ounce or two of Homemade Irish Cream, and garnish with a generous sprinkling of salty Spanish peanuts.
Emily's Pick—Boozy Hot Chocolate
Frangelico, Baileys, Kahlúa and chocolate—perfect for a chilly winter evening! –Emily
Ingredients
Hot chocolate (can be a mix, warmed up chocolate milk, or melted chocolate, whichever you prefer)
1 oz Frangelico
1 oz Baileys Irish Cream
1 oz Kahlúa
Whipped cream and chocolate shavings, to garnish
Heat desired hot chocolate mixture, add Frangelico, Baileys, and Kahlúa, then top with whipped cream and garnish with chocolate shavings.
Caley's Pick—Baileys & Coffee
Eons ago, a friend and I created the tradition of having a Baileys on the first real snowfall of the season. The ritual has remained steadfast over the years, but as we've grown older and classier, so has the cocktail. In lieu of shooting airplane minis outside of someone's apartment, we now brew a full-blown pot of decent coffee to accompany the Baileys. We even drink it out of cute mugs. –Caley
Ingredients
Brewed coffee
Baileys Irish Cream, to taste
Make the coffee via your mechanism of choice—personally, I like it when I can push a button and coffee appears. Pour coffee into a cute mug, and add desired amount of Baileys. There is no such thing as too little or too much. Garnish with good conversation and a winter wonderland outside your window.
Cindy's Pick—Baileys & Milk
Sitting down to the glow of only Christmas lights with a glass of Baileys is the way I holiday! When I close my eyes and take a sip, I can almost see my dad sitting across from me relaxed and smiling. –Cindy
Ingredients
Baileys Irish Cream (a little or a lot, your choice)
Milk
Fill glass with ice, and pour in the Baileys and milk. Mix and enjoy.
Mental Health Resources
You're not alone. The holidays are a tough time for a lot of people. The following services are available 24/7 and waiting to help.
Addiction Services Helpline—This service provides help for problems with gambling, alcohol, tobacco, and other drugs. The service is available 24/7 by calling 866-332-2322.
Canadian Mental Health Association Distress Line—This service provides support for individuals experiencing a crisis. The service is available 24/7 by calling 888-787-2880.
Health Link—This service provides health information and advice from registered nurses. You can reach Health Link 24/7 by calling 811.
Kids Help Phone—This service is free, anonymous, and confidential and provides telephone and web counselling for youth in Canada. The service is available 24/7 by calling 800-668-6868.
Mental Health Helpline—This service provides crisis intervention, information about mental health programs and services, and referrals to other agencies if needed. The service is available 24/7 by calling 877-303-2642.